Collaborating with my colleagues from EHQ, we delivered a knowledge sharing and engagement programme. My contribution included designing project conclusion e-book reports and producing landscape visualisations     
As part of its knowledge sharing programme, Revere wished to produce e-book reports and landscape visualisations for the Natural Environment Investment Readiness Fund (NEIRF) as part of two private equity nature restoration pilot projects in the New Forest and North York Moors National Parks, each exploring the potential role of private investment. 
​​​​​E-book design | Esk Valley and New Forest pilot projects 
Working with experts, writers, report contributors and end users across both National Park projects, I designed two e-books highlighting the in-depth processes, practices and learnings from each pilot project. 
Each e-book was 30+ pages and designed in National Parks UK's house style. Each report cleanly presents a variety of content including interviews, flow-charts, timelines, illustrations and nature photography.
​​​​​​​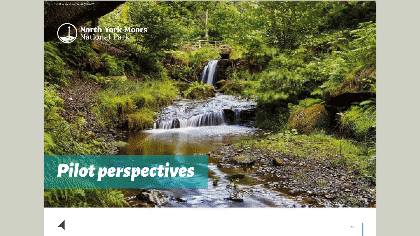 North York Moors National Park (Esk Valley) NEIRF report
New Forest National Park NEIRF report
Landscape visualisations | The Esk Valley
As part of sharing its project info and ambition, the project team working in the Esk Valley in North York Moors National Park wanted to engage investors and end-users by visualising how its nature restoration efforts could potentially transform the area over time.